Are you a Great Lakes Energy member looking for the best internet and voice service available? Look no further!
1. Enter your service address on the map.
2. Click to register or show interest
3. Log into your Great Lakes Energy account and select the Truestream banner at the bottom of the page.
If you have not created an online account, select "New User" and follow these step-by-step new user instructions.
If you experience an issue registering online, please fill out and return the appropriate FORMS. 
Installation & Active
Construction in your area is complete and we are actively connecting Truestreamers! We are accepting new registrations, although an installation fee may apply.
Construction to the Home
Mainline construction and network connections are complete and we've begun construction to the home. We are accepting new registrations in this area, although an installation fee may apply.
Fieldwork & Registration
Mainline construction has begun in your area! Complete your registration (it's not a contract!) and return the required documents to guarantee your FREE in-home installation ($149 value) before we move construction to the next area!
Future
We are exploring bringing our fiber network to the area. Several factors, like demand and constructability, go into deciding where to build next. Share your interest today! 
*PLEASE NOTE – This site uses a global mapping database. If your address appears in an active area but you do not have Great Lakes Energy service, your address may not be eligible for Truestream. Some locations within active areas may be delayed or deferred due to extensive construction work needed and relatively low sign-up rates.
WHAT WE'RE DOING
Engineering fieldwork

Visit each meter to verify location, equipment, etc.
Compile information gathered into a report.

The board of directors reviews the information and approves construction areas for the next year.
Please Note: This is a multi-year process due to the size and scope of the construction needed to bring Truestream to all areas.
YOUR NEXT STEPS
Log into your account and show your interest in getting Truestream brought to your location.
Demand for Truestream is one factor that helps us determine where to build next, so encourage your friends, family, and neighbors to show their interest as well!
Estimated time to complete: 1-8 years
WHAT WE'RE DOING
Construction is announced and includes:

Replacing poles when necessary.
Installing hardware on poles.
Stringing or burying mainline fiber.
Splice fiber lines together.

Mainline construction is completed.
YOUR NEXT STEPS
Complete your registration.
We will mail you the necessary documents, including a blank site plan. Fill out and return them as soon as you can.
If you need a copy of the documents, they can be found on our FORMS PAGE.
Estimated time to complete: 4 months and can run concurrently with some steps in the Construction to the Home.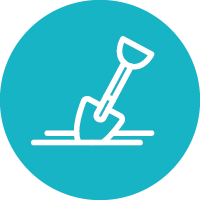 WHAT WE'RE DOING NEXT
Once the site plan is received, we can design the drop to your location. The drop generally follows the path your electric line takes to your home.
If the service is underground, we contact MISS DIG before installing the conduit.
The drop is installed, overhead or underground.
YOUR NEXT STEPS
If you haven't already, register for Truestream through your Great Lakes Energy online account.
We will send you the necessary documents to complete your order. Please fill out and return them as soon as possible. The documents can be found on our FORMS PAGE if you would like to print and send them in yourself.
After MISS DIG has marked your underground utilities, use the provided flags to mark additional underground facilities.
Estimated time to complete:
Overhead: 3-4 months
Underground: 4-5 months. Underground work pauses for winter months.
Can run concurrently with Fieldwork and Registration, but not always.
WHAT WE'RE DOING
Network equipment is installed.
The network is lit up and tested.
Testing the drop to verify it is operational.
Calling to schedule your in-home installation.
PLEASE NOTE: if your area is active and you are newly registered, the Construction to the Home steps apply.
YOUR NEXT STEPS
Verify your contact information is accurate.
A household decision maker 18+ needs to be at the location for the entirety of the installation.
Estimated time to complete: 1-2 months.
Welcome to the Truestream family!
Ultra
Family plan features, PLUS
Great for 10+ devices.

Ideal for streaming HD/4K, working from home, large file uploads, and home security.

1 Gig (1,000 Mbps) download/upload speeds.

Best of the best.
Family
Basic plan features, PLUS
Great for 5-9 devices.

Ideal for streaming HD, gaming, taking classes online, and video chats.

200 Mbps download/upload speeds.

Double the speed of the basic plan for only $10 more a month!
Basic
Great for 1-4 devices.

Ideal for surfing, emailing, streaming music and movies, photo uploads, and social media.

100 Mbps download/upload speeds.
Voice
Crystal clear unlimited calling to the United States, Canada, Puerto Rico, and the U.S. Virgin Islands.

Standard features like three-way calling, caller ID, call forwarding, voice mail, and nuisance/robo call blocking.

Bundle and SAVE $5 when you combine phone and internet services.
Residential Vacation Plans
Perfect for long periods of time away from home.

Reduced speeds for home monitoring systems/devices.**

Available for limited periods of time, eligibility and restrictions may apply.
911 access only.

Allows subscribers to retain their phone number while away.
*Pricing and plans are subject to change.
**Speed requirements vary – consult the manufacturer for the minimum speed necessary to operate your monitoring systems or devices. The Basic Plan is available for higher speed requirements.
Business internet and voice plans are available. Please call 1-888-485-2537 for details.
 With Truestream, you're more than a customer, you're a friend, and we strive to provide the best customer experience possible. We also provide the best internet possible, and fiber internet is truly a revolutionary jump from any other internet provider. Check out some of the differences you'll notice when you switch to Truestream.
Cable/DSL
Cable/DSL lines carry data through electrical connections, making them susceptible to weather incidents and outages.
The signal strength gets depleted the farther away your home is from the source, too, leading to inconsistent service.
Truestream
Fiber lines use light pulses to transmit data along glass lines. Because of this, they can carry data much farther than copper before needing a signal "boost" to maintain high-speed connectivity for everyone. Plus, you have a fiber line right to your home – no sharing connections with the neighbors.
Cable/DSL
Typical cable/DSL lines are slow, and download and upload speeds aren't symmetrical.
For example, a user could get 15 Mbps download speed, but only 1 Mbps upload speed!
Truestream
Gigabit is as fast as it gets. Fiber lines can typically carry up to 1,000 Mbps, and download/upload speeds are symmetrical, meaning you can download and upload at the same speed.
Cable/DSL
Let's face it – cable and DSL are technologies of the past.
As media files continue to evolve in complexity and increase in size, networks that cap out at just a few dozen Mbps will quickly go by the wayside.
Truestream
Fiber internet is often called future-proof technology. Because of its high capacity for data, fiber lines are well-suited for a data-driven future. Undersea industrial fiber cables can even transfer terabits of data!
Cable/DSL
Cable/DSL connections typically come with a host of hidden fees, contract terms, additional equipment charges, and more.
Truestream
With fiber internet from Truestream, you get free Wi-Fi, no data caps, and no contracts.
I have had my Truestream service for a few weeks now. I love it. What would have taken me a minimum of 4-6 hours to update my Mac took me less than an hour. It has been consistent. I would highly urge all who have the potential to get this service to do so.
Thank you so much Great Lakes Energy for Truestream. It is amazing. Your customer service is amazing and very helpful. Keep helping all of the families and households you can in the state of Michigan, they will all love it. THANK YOU!
I was cursed with satellite internet for the last 12 years. In late December, we entered the real world with Truestream. Now I even get internet in my yard. Thank you, Truestream.
Customize Your Streaming Experience
Canceling your cable or satellite TV used to be a tough decision. Not anymore! Streaming gives you more control over the content you want – when and how you want it. Truestream has partnered with MyBundle to make finding the streaming service that best fits your needs and preferences easy!
Tell us about yourself.
Pick your favorite TV channels.
Get personalized streaming recommendations.
Sign up for the service of your choice!
Timelines are based on the current list of registrations, which changes daily, and the current number of crews working. These dates are for construction progress. The drop brings the fiber line from the mainline to the side of the home and generally follows the path...
Construction Plans for 2024 Take Shape.  Truestream construction plans for 2024 include 14 areas in the Waters and Kalkaska service districts. Registration will open in phases.  To view our dynamic map and determine your Truestream area, please enter your service...
Service District
Great Lakes Energy has nine service districts cover parts of 26 counties in Michigan. Service districts include Petoskey, Boyne City, Waters, Kalkaska, Scottville, Reed City, Hart, Newaygo, and Wayland.  All of our GLE members are within one of our service districts, and each service district has employees that know their district like the back of their hand.
Interest
Showing or sharing your interest in Truestream is simply that – letting us know that when we are ready to build in your area, you're ready, too.
Interest in our service is one of the factors we look at when we determine where to build next – we want to go where we are wanted and needed. Be sure to encourage your family, friends, and neighbors to share their interest in Truestream as well!
Register
If the service area is active, we ask that you complete your registration. The registration process creates a service order for your location.  A lot of planning goes into building the Truestream network. When our crews are working in the area, we want to build to everyone in that area as quickly and efficiently as possible – which takes advanced planning.  This is why we ask you to complete your registration and site plan by certain dates, usually before construction has even begun.
Drop
The drop is the fiber line to your location from the mainline. If your electric service is overhead to your location, your drop will likely be overhead as well.
If your electric service is underground, your drop will be as well. Underground fiber is run through orange conduit, which will be installed prior to the drop.
Lit
Once the mainline construction is done, we install the necessary network equipment and "light" up the fiber lines. Fiber lines are spliced together, and we verify those splices are working as they should before installations begin in an area. Once we know everything is working as it should, we say our network is "lit".
Truestreamer
We think of all of our Truestream subscribers as family, and what does every good family have? Nicknames! Once you are part of the Truestream family, you officially have the nickname of Truestreamer. Wear it like a badge of honor.
Service Area
Within each service district are smaller service areas. These service areas are named after the substation that provides electricity to the area, not necessarily the city, town, or township where your home is located.
Fielding
Fielding is part of our core engineering and planning stage. We visit and map out every meter in the entire service district. That service district is then separated into smaller service areas. The information gathered during the fielding process is used to determine construction costs, necessary employee resources, and any potential issues an area may face.  Based on this information, the board of directors then approves areas for construction.